This post is also available in:
Indonesia

Português
To make money in the largest financial market, you need a reliable intermediary. Plus500 and eToro are well-known names in the industry. They serve clients in different countries and offer a wide choice of instruments extending far beyond currencies. Here is everything you need to know about eToro vs Plus500 in 2021. Which one is best for your needs?
Review Methodology
To compare the brokers, we have looked at all key criteria in terms of status, instruments, software, and reputation. If you are searching for the perfect provider, you need a combination of factors. Do not base your decisions on the costs or welcome offers alone. Below, we have analyzed the most important aspects defining your retail trading experience on Etoro vs Plus500.
Licenses and Trust
Plus500 has an impressive history, as it emerged over a decade ago — in 2008. The company is authorized by the FCA (Financial Conduct Authority) in the United Kingdom. As a compliant provider, it guarantees the clients' funds are separated from the operating capital, so misuse is impossible. In addition, the firm is listed on the London Stock Exchange's Main Market. The broker serves millions of clients worldwide, as you can see from our Plus500 review.
eToro is only slightly older — its history dates back to 2007. The company has multiple licenses. Aside from the UK-based FCA, it is authorized by the CySEC (Cyprus Securities and Exchange Commission), and ASIC (the Australian Security and Investments Commission). Find out more in our detailed Etoro review.
All funds of eToro traders are held in tier-1 banks in the EU. Like Plus500, the broker guarantees negative balance protection. This means a client may not lose more than their current balance. This is crucial for any leveraged instruments, particularly CFDs. Overall, both companies are licensed and trusted by an international audience.
Comparison of Instruments
Both brokers offer currency and derivative trading. As we have already mentioned, they warn clients that they should protect their money when trading CFDs. None of them has any binary options. With either, you may trade:
Major, Minor and Exotic currency pairs;
CFDs on commodities (e.g., oil);
CFDs on metals (e.g., gold);
CFDs on stocks;
CFDs on market indices;
CFDs on ETFs.
Plus500 has a slightly wider choice of currency pairs — there are 50 options as opposed to eToro's 47. On the other hand, the rival has more CFDs — 2,314 against 2,033 offered by Plus500. Its clients also have access to the physical cryptocurrency market, not just derivatives on Bitcoin and the like. Finally, Plus500 has no social trading tools that are at the heart of the eToro system.
Overall, it is clear that traders have a better choice with eToro. They may assemble a portfolio across multiple markets, not only Forex and CFD. The broker facilitates communication between clients, allowing them to share insights easily. They may also copy each other's strategies through the copy trading system, which is great for beginners.
Comparison of Trading Platforms
Both brokers have proprietary systems for different OS. To compare them, it is necessary to evaluate the tools, research aids, and apps. As you can see from the following table, eToro has similar features. Its key strength is the excellent market research arsenal. The mobile app of Etoro vs Plus500 is also more advanced.
Both brokers offer apps for Windows, Android, and iOS. Their clients may use a web-based version of the terminal – i.e., work without any software. Now, let's examine both environments in detail.
| | | |
| --- | --- | --- |
| Features | Plus500 | eToro |
| Demo trading | ✔ | ✔ |
| Basic alerts | ✔ | ✔ |
| Watchlists | 10 | 6 |
| Indicators | 103 | 66 |
| Drawing tools | 21 | 13 |
| Trade from chart | – | – |
| Autosave drawings | – | ✔ |
| Trailing stop | ✔ | ✔ |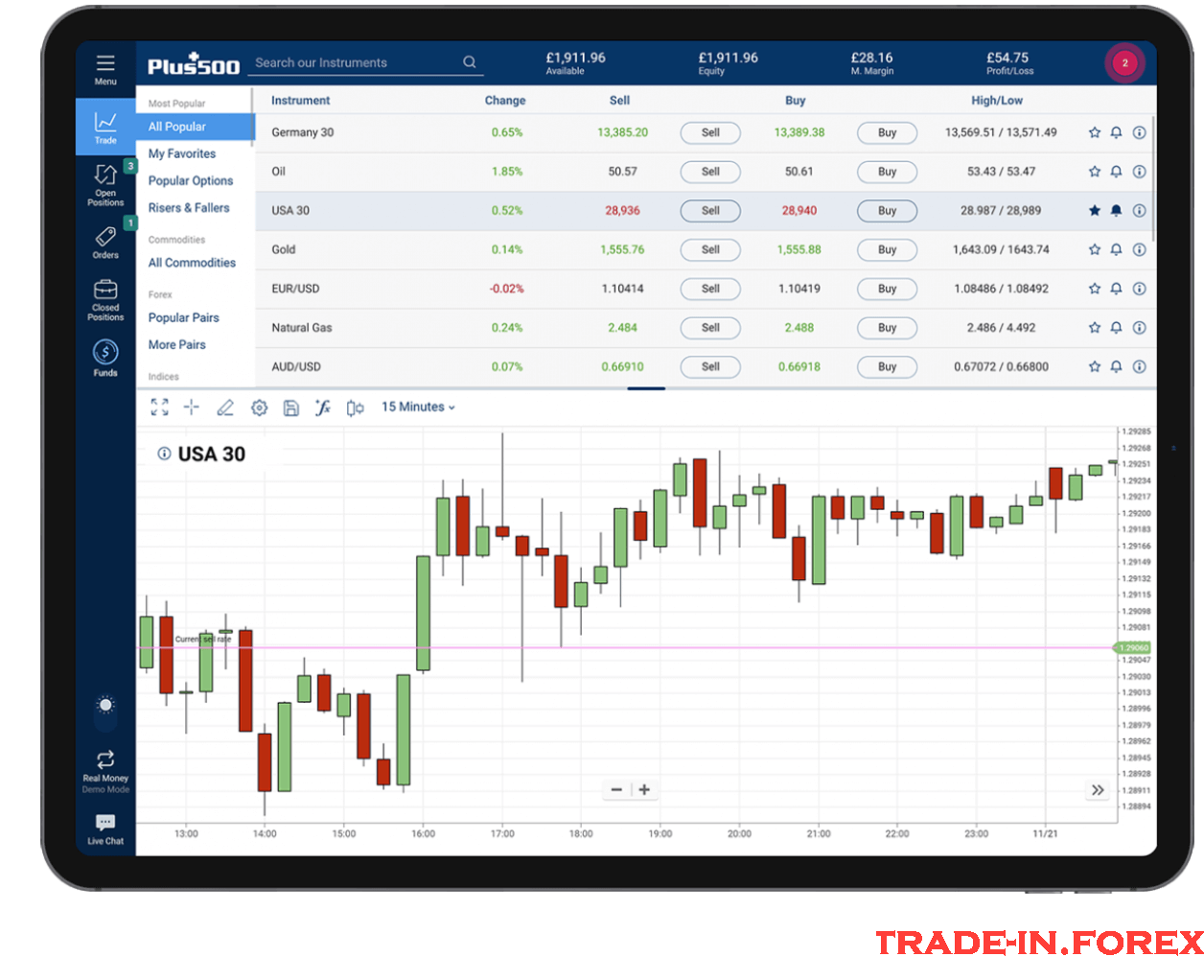 Overview of Plus500 Platform
The key advantage of this unique system is its ease of use. Its layout is clean and understandable for traders of all levels. There are no complex analytical tools. Still, CFD traders will find everything they need:
ordinary buy and sell orders;
guaranteed stops (at an extra cost);
trailing stops;
Stop Loss (close at loss);
Take Profit (close at profit);
economic calendar;
real-time alerts.
Overall, it is a solid, yet fairly straightforward system for online trades. Users can set automatic triggers to have their positions executed at a desirable price. Most of the advanced features are free. The economic calendar condenses market data, and alerts keep traders tuned in. They are customizable and offer a choice between texts, emails, and push notifications. 
Overview of eToro Platform
Social trading is at the core of this system. Traders can interact and share experiences in a variety of ways. Registered members can view their personal feed — similarly to LinkedIn or Facebook. Aside from the price charts and trading aids, the sections include:
personal trading stats,
portfolios of peers,
a chart showing the net result achievable with an investment of $10,000.
Those who lack knowledge or time may trade by proxy. The platform allows you to find seasoned experts and replicate their strategies automatically. For the copied users, this is an opportunity to gain a commission. They receive up to 2% of the delegated assets (AUM). This service is not available on Plus500, so its clients may only rely on their own skills. How to Close a Plus500 Account
Minimum Deposit Requirements
The size of the minimum deposit on Etoro varies between regions. For instance, residents of the US and Australia are the luckiest — they may begin with just $50. On the other hand, a few countries including Algeria get the least affordable entry — $5,000. Elsewhere, traders need at least $200 to get started.
Clearly, these rates are far from low, as some other brokers allow entry with just $10. However, Plus500 is not the cheapest broker, either. Traders need at least $100 to get started.
Demo Trading and Education
Both brokers allow their clients to explore the software free of charge. This allows them to build the skills required for real trading. The demo accounts are free and quick to register, as only basic details are required. Clients are not pressured into opening live retail investor accounts from the get-go.
eToro has its own Trading Academy that provides a wealth of insights to traders. In comparison, the Plus500 offers very little educational content, as you can see below. It does not offer any tutorials or webinars.
Both brokers provide CFDs, highly risky financial instruments. As these are heavily leveraged, some accounts lose money, particularly when the traders are inexperienced. The companies do not fail to draw their clients' attention to the high risk of losing. Their deposits and both platforms allow them to limit risks.
| | | |
| --- | --- | --- |
| Types of Educational Content | Plus500 | eToro |
| Forex | – | ✔ |
| CFDs | – | – |
| Webinars | – | ✔ |
| Archived webinars | – | – |
| Videos (beginners) | – | ✔ |
| Videos (advanced) | – | ✔ |
| Glossary/dictionary | – | ✔ |
Is Copy Trading Available?
This system is based on delegation of trading action. Clients connect to successful traders and have their positions copied automatically. Sadly, as we have mentioned, clients of Plus500 do not have this opportunity, as the broker does not allow it.
However, eToro has a different approach. Its system was built around the concept of free informational exchange. Users can follow experts or be copied easily. This is an obvious advantage.
Comparison of Trading Costs
There are several ways for a broker to make a profit — spreads, commissions, and fees. Plus500 is a market maker, so spreads are its main source of revenue. Clients are not charged for regular transactions like deposits, withdrawals, or trades. Still, fees may apply in the following situations:
after 3 months of inactivity (logging in to the account);
when a position is left open overnight.
In the first case, the broker will charge a monthly fee of $10. This recurring payment stops once the user logs in again. Overnight trading is not free, either.
Unless you close all of your trade before the cut-off time, the charge is calculated using a special formula. It is your trade volume multiplied by the opening rate multiplied by the daily overnight funding percentage. So, how do eToro's rates compare?
Like Plus500, it does not charge a commission per trade, focusing on spreads instead.
Withdrawal is not as easy: the lowest acceptable amount is $50, and you are charged $25 every time.
Overnight fees are also charged, but the broker may give credit instead — this depends on the instrument and type of position.
Should You Choose eToro or Plus500? 
These brokers offer Forex and CFDs with a relatively high deposit requirement. Plus500 has more educational content to help you find a good strategy. However, it does not allow you to copy other traders or share experiences in the internal network. 
We cannot deny that each broker has unique strengths. Whether you pick eToro or Plus500 should depend on your needs and goals. Both companies are licensed, so you can count on them.